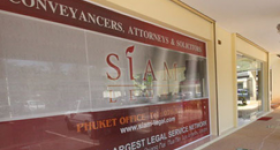 For more than 2 years many operators in Pattaya have had a run in with the law about playing music. Now some where just scam artists looking to take cash.The Central Goods and Services Price Committee had in 2002 already announced the royalty structure of the music industry but was not enforced.
With karaoke being very popular in Asia there has been for years a dispute between copyright owners and copyright users. Now all music fees collectors have to notify the government when and how much the fees will be for the year at least 10 days before they start collecting fees. The government needs to know the following:
1. The fees to be collected;
2. The expenses of the artist who created the music;
3. The conditions and procedures of collection.
The problem has always been 3. The conditions and procedures when collecting fees. The problem has been as to who would be the collecting agent and how this would be done. Currently there are two sets of collectors who operate out of Bangkok. The one being in charge of foreign music and the other local music. If you play both this could become expensive. The agent disputes and identification of the agents had created such problems in Pattaya where people not even related to the agency or the police would walk in and demand fees. Most times the police have been very fast at arresting them for fraud and the matter settled. There are however still those who would push their luck with regards to fees.
If you have bought a bar in Pattaya or a restaurant let one of our solicitors in Pattaya arrange the royalty fees payment for you and ensure that you do not fall victim to any scam artist. Speak to us now with regards to business in Pattaya and how to arrange all your business dealing legally.